We could find almost nothing online about this skin lightening product, which made us all the more eager to try it out. We found the FDA information and many customer reviews, but no blogger or health or skin care site that had done a complete and unbiased review.
So we'll do that now…
Obagi Nu Derm Clear must be purchased the first time with a prescription from your physician or dermatologist. It's an effective product for skin lightening, but it does use hydroquinone, which was banned by the FDA for possible links to cancer.
This product from Obagi does only use a 4% concentration of hydroquinone, which is believed to be safe. The concentration is effective for skin discoloration, but it isn't as rich as far as the base goes as compared to other skin lighteners available only by prescription.
It contains enough sodium lauryl sulfate that it may irritate your skin. The product also contains antioxidants that are vitamin-based, which makes them helpful, but the price is still high for a product with this level of efficacy.
What Else is Included?
The hydroquinone in this product is water and alcohol-soluble. The base also contains glycerin, Vitamin C (ascorbic acid) and stearyl alcohol, which may tend to dry your skin.
How Do You Use It?
This product is applied topically to inhibit your body's production of melanin, to create reversible depigmentation. It accomplishes this by suppressing the processes that lead to melanin production.
If you go out into bright sunlight or tanning, the bleached areas will be repigmented, so it's essential to wear suitable clothing and an SPF rated sunblock when you head outdoors.
This treatment works by slowing down the production of melanin [1]. Melanin is the chemical that creates dark areas. The product relies heavily on hydroquinone, which we weren't too crazy about. While this is a highly effective skin lightening ingredient, it also poses some threats to your health. There isn't any clinical evidence that proves this chemical is dangerous to humans. However, some people do believe it's linked to cancer among other health complications.
Who Benefits the Most From This Product?
Anyone who wants an even skin tone or suffers from melasma can benefit from this product. Users claim in their Obagi Nu Derm Clear reviews that this cream not only helped fade dark patches on the skin but also improved their overall complexion. If you have freckles, melasma, chloasma or other hyperpigmented skin problems, you can bleach it gradually with this product.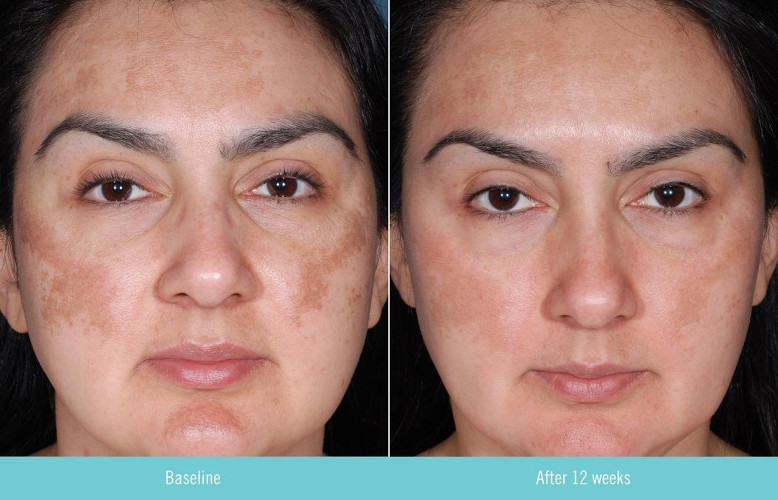 You can purchase Obagi Clear by itself or in conjunction with the entire Obagi Nu Derm system. When using by itself, users will still notice their dark spots fade away – it's even shown to help repair sun damaged skin.
Who Should NOT use the Product?
If you've had an allergic reaction [2] to any of the product's active ingredients or are sensitive to skin treatments, it's a good idea not to use Nu Derm Clear.
If you are pregnant or under the age of 12, it has not been established whether it is safe or not, due to the inclusion of hydroquinone in the compound.
Hydroquinone can effectively bleach skin areas that are hyperpigmented, but it may also produce unwanted and unintentional effects if you don't use it properly. Ask your physician or dermatologist if you have any questions about the product before you begin using it.
Testing for sensitivity is a good idea, before you begin using the product in earnest. Use a very small amount on an area of unbroken skin and check it over a period of 24 hours. Redness may be expected, but as long as it is minor, it shouldn't be an issue.
If, on the other hand, you experience itching or inflamed skin, stop using it and contact your physician. Be sure not to apply the product too close to your eyes, lips, mouth or nose. Always remember to wear sunscreen when you go outdoors, because UV rays may re-pigment your skin very rapidly.
Are there any other contra-indications?
Obagi NDC contains a sulfite that has caused allergic reactions that range from less severe asthma to serious anaphylactic symptoms [3]. This may be a problem if you suffer from asthma.
It's also safer to use it on small areas at any given time. Some users reported skin reddening and mild burning, but these are not believed to be serious, and you may still use the product.
We simply don't know if hydroquinone can cause harm to unborn children, so it is not usually prescribed for pregnant women. If you're a nursing mother, it's a good idea to try another product, since, again, there has not been enough study done to know if harm could be caused.
The best way to decide if this is the product for you is to read Obagi Nu Derm Clear reviews. That way, you can find out how it has worked for others. You may find it to be the miracle treatment to your discoloration, age spots, or melasma. Just be sure to use with care and as directed.
What do real users think?
"I have suffered from melasma with both of my pregnancies each time this has left me with a dark prominent patches around my eyes and cheeks and forehead which really get me down – I have used obaji on both occasions and will never use anything else its amazing both in terms of lightening dark patches (which are very dark as I am mixed race) and also general skin tone – it seems to nourish and improve skin as well – amazing – I use steps 1 – 6 now and doubt I will move on!"

– carlaknight
"I used this product for about a year and saw amazing and continuous results. However, hydroquinone should only be used 3 months on, then 3 months off because extended use can lead to it's metabolizing in your liver and elevating the liver enzymes. Unfortunately, I know this from experience. If you are going to use this very effective yet potentially hazardous product, you should do so after consulting with a doctor who understands liver function – and I don't mean the Med Spa rent-a-doc or aesthetician who's selling it."

– mahra_fox_pailet
Our Evaluation
It's no surprise that skin lightening products have been increasing in popularity in the past few years. If you can fix your uneven skin tone without undergoing a medical procedure, then why wouldn't you?
Obagi Nu Derm Clear is definitely a product that delivers on its promise, as far as we can tell. But we just can't quite get past the hydroquinone, when other products have great results now, without it. Perhaps you'd like to try a gentler, more natural product first. We put this cream at #3 on our list of the best skin lightening creams.
Whichever cream you decide to go with, we would love to hear how it worked for you. Be sure to leave your feedback down below and tell us all about what you liked and what you didn't like!
References:
[1] https://en.wikipedia.org/wiki/Melanin
[2] https://www.healthlinkbc.ca/health-topics/allre
[3] https://www.healthline.com/health/anaphylactic-shock
[ninja_tables id="18918″]