Looking for an age-defying product? Olay is a timeless brand that has earned a powerful reputation over the years for their anti-aging products.
Considered a staple in many households, Olay has grown tremendously as a brand, embracing a few cosmetic changes of their own.
Formerly known as Oil of Olay Beauty Fluid, the company has re-branded to just Olay, and they've implemented some new packaging and improved their formulas.
The Regenerist line of oils and serums has skyrocketed in popularity since the product's launch in 2003. But does the Regenerist line really live up to their claims?
To help you determine whether it really works, and more importantly, whether it is right for you, we've put the product to the test in our Olay Regenerist review and outlined everything you need to know before you buy.
How each product is reviewed
Each and every product mentioned on our site has been tested by one of the team members of MyFace Cosmetics. We do not receive any sponsorship from the brands and all comments are our own. From time to time, we also refer to online reviews and include information about how other people use the products.
Hot Take: I tried the Olay Regenerist Micro-Sculpting Cream Moisturizer and I am one happy customer. It has improved the texture of my skin and the lines are much smoother! Read on as I share my detailed findings.
[ninja_tables id="18923″]
About Olay: A Classic Icon in Skin Care
Olay is a classic brand that has stood the test of time since its rise to popularity in the 1950s.
Created by Chemist, Graham Wulff, the brand was first launched with one product, and one product only—the Oil of Olay moisturizing fluid.
Wulff developed this product while in South Africa after noticing that moisturizers on the market were thick and ineffective.
When the Oil of Olay Moisturizing fluid first launched it was truly one of a kind, and it helped revolutionize skin care.
Over time, the Oil of Olay brand launched more products, including a range of serums, oils, creams, and other products focused on improving the health, look, and feeling of the skin.
The company is now known as simply 'Olay,' but its reputation for quality skincare products still puts the brand at the top of the market.
The Regenerist line, which launched in 2003, is one of the brand's crowning achievements, containing around 27 products all focused on skincare and anti-aging.
Olay Regenerist Products and Claims
One of the things that draw consumers to Olay products the most is the brand's impressive claims.
The main focus of the Regenerist line is to improve the skin's texture and appearance, minimize wrinkles, and protect mature skin from further damage.
The line consists of a wide variety of products that each target a different skincare concern.
While there are over 20 products in the line, some of the most popular items include:
Olay Regenerist Micro-Sculpting Cream (click to read review)
Advanced Anti-Aging Wrinkle & Pore Vanisher Treatment
Instant Fix Exfoliate and Renew System
Anti-Aging AND Eye Skin Care Regimen Kit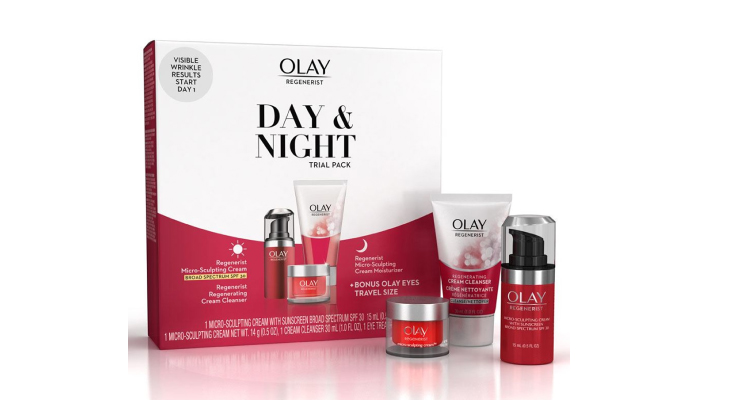 Whether you want to minimize wrinkles, moisturize the skin, reduce sagginess, eliminate dark circles, or simply improve the health, look, and feeling of the skin, Olay probably has a product that could work for you (1).
One of the greatest advantages of this line is that it is designed for all users. The fragrance-free formula prevents unnecessary irritation of the skin that could result in more damage.
Also, the gentle ingredients are dermatologically-tested to work on normal, dry, or combination skin—allowing people with different skin types to reap the benefits of this product.
Overall, the Regenerist line does not claim miraculous results.
However, it does claim to improve the appearance of the skin by minimizing wrinkles, providing moisture, plumping and lifting, and overall leaving it with a more youthful glow.
Detailed Information of Some Olay Regenerist Products
This session contains detailed information on some Olay Regenerist Products.
Olay Regenerist Micro-Sculpting Cream
This is an anti-aging facial moisturizer that helps visibly diminish wrinkles and fine lines on your skin from the first day of usage.
Olay Regenerist Micro-Sculpting Cream contains fragrance.
This product's key ingredients are glycerin, niacinamide, panthenol, palmitoyl pentapeptide-4, and sodium hyaluronate.
It also consists of three parabens which serve as preservatives.
Olay Regenerist Night Recovery Cream
This skin care product is an anti-aging facial cream specifically for nighttime. It helps hydrate your skin the whole night to aid in the reduction of the appearance of fine lines or wrinkles.
The primary ingredients of Olay Regenerist Night Recovery Cream include vitamin E, dimethicone, glycerin, niacinamide, panthenol, and palmitoyl.
Finally, unlike Olay Regenerist Micro-Sculpting Cream, this product has no fragrance.
Whip Face Moisturizer
The term "whip" in the name of this product is due to the introduction of "Whip Technology." This tech gives you a light formula that will change your cream to liquid for quick absorption immediately after it gets in contact with your skin. As a result, it gives you a smooth finish that moisturizes your skin.
In addition, the Olay Regenerist product is an anti-aging facial moisturizer that improves elasticity, firms, and hydrates the skin for a lifted look.
Its major components are glycerin, panthenol, sodium hyaluronate, niacinamide, and palmitoyl pentapeptide-4.
There's also fragrance present in it.
Olay Regenerist Detoxifying Pore Scrub Facial Cleanser
This face wash is created with a lathering gel formula that aids in cleansing away dirty and dull skin.
It also helps in regenerating the skin's surface.
Its primary ingredients are hydrated silica, glycerin, and surfactants. The hydrated silica promotes physical skin exfoliation and breaks down during the process. This unique trait will aid in stopping you from over-scrubbing your skin in any way that can lead to unintended damage due to over-exfoliation.
This detoxifying pore scrub facial cleanser contains a scent.
The Olay's Return Policy
According to the brand's return policy, every customer is in charge of shipping payments for the returned skincare product. In addition, the product must be returned in good shape, unopened, and in its initial packaging within 30 days.
The 30 days begin from the day the company takes the purchased product to a carrier for shipment to you.
Ingredients
Each product in the Regenerist line is formulated slightly differently depending on the intended effect.
However, some of the key ingredients used in several products across the board include hyaluronic acid, amino peptides, B3 vitamins, Glycerin, and Dimethicone.
For a full list of ingredients, you can check the company's website.
Overall, the ingredients used in this line have been shown to offer outstanding results.
One of the stand-out ingredients is hyaluronic acid—which has been clinically proven to improve the appearance, health, and texture of the skin thanks to its moisturizing potential.
There are a few ingredients, however, that aren't for everyone.
Some of these include parabens like Ethylparaben, Propyl paraben, and Methylparaben.
Lastly, one of the best things about the ingredients is how gentle they are on the skin. Most of the products are fragrance-free, preventing allergic reactions or skin irritation.
Many of the products also contain SPF, which can protect the skin from obtaining any further damage.
Choosing the right product for your needs and age group can make a huge difference in whether you can achieve your desired results.
With so many products in the line, it can be easy to find yourself asking "which oil of Olay products should I choose" but when you break down the formulas by category, it is much easier to find the right one for you.
For those who want a more liquid formula, for example, the Regenerating Serum or the Micro-Sculpting Serum will work best.
If instead, you want a more creamy lotion, the Micro-sculpting cream or the Regenerist Lotion offer a whipped and velvety consistency.
Product Reviews
Countless online reviews have raved about the Olay serums, oils, and creams, claiming impressive age-defying results.
One of the most popular products in the line, for example, is the Olay Regenerist Micro-Sculpting Cream.
On multiple skincare review sites, this product is rated 4 or 5 stars, with many of the negative reviews criticizing the product's dispenser/packaging rather than the actual results.
The before and after photos show that the product can work, especially with consistent use.
Compared to the Pro X or the Total Effects lines, the Regenerist has better reviews and seems to offer better results.
Of course, just like any skin care product, the Regenerist formula isn't for everyone.
However, the majority of the reviews are positive, and the product appears to live up to its claims.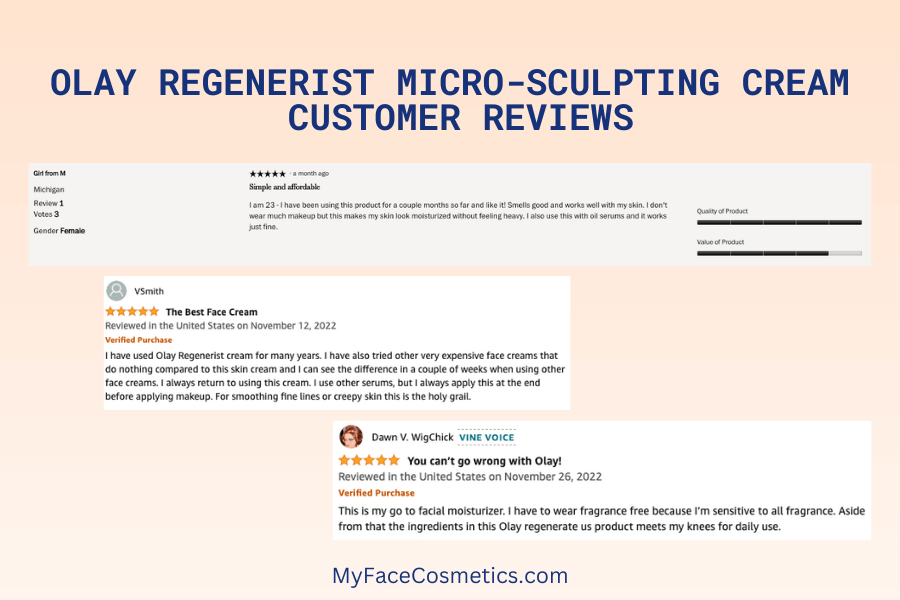 For those looking for the best anti-aging serum or cream, we've also compared Olay to other popular skincare brands like Rodan and Fields to help you find the best one for you.
If you don't think this brand is right for you, click here to check out the best Olay alternative.
Final Verdict: Say "Olé" with Olay
So, the online reviews seem to support Olay as a brand, but does the Regenerist line really work? Based on our research on this Olay Regenerist review, the answer is yes! However, your results may vary depending on your skin type.
On Olay's website, the brand claims the Regenerist line is best for those with dry, normal, or combination skin and we certainly agree.
This isn't to say, however, that those with oily skin can't use the brand.
Some of the best products for oily skin include the lotion, eye cream, and night treatment.
Also, if you have very mature skin, we recommend using multiple products in combination for the best results.
The Regenerist 7-in-1 Anti-Aging moisturizer, for example, offers powerful results for a great price.
The 3-point super age-defying cream is also a great option for those who really want to see a visible difference in their skin quickly.
Lastly, just like all skin care products, the Olay Regenerist line takes time to show effects, which is why we recommend daily use for the fastest results.
The brand is not offering a miracle solution to aging or claiming to be the fountain of youth, however, with consistent use we've seen the transformational power of Olay Regenerist.
Where to Buy?
If you're ready to say "Olé" to your wrinkles, the Olay Regenerist line is here to help!
For years, the company has stood out on the cutting edge of skin care offering quality products with real results.
The Regenerist line is no different, offering wrinkle-fighting power that can leave your skin feeling moisturized and youthful.
If you're ready to try the brand's serums and creams for yourself, buy directly on Olay's website and get the best price!
[ninja_tables id="18922″]