There are plenty of fantastic skin whitening face creams out there, but finding the best whitening body lotion isn't quite so easy. The skin on the body is thicker than the skin on the face, meaning that beauty products designed for the body need to pack even more of a punch.
If you've been struggling to find a whitening formula that actually works well on the body, we're here to help. Whether you're trying to fade dark spots on your chest or brighten up the skin tone on your legs, here are the 11 best whitening body lotions out there.
[ninja_tables id="18835″]
How each product is reviewed
Each and every product mentioned on our site has been tested by one of the team members of Pierre Michel Beauty. We do not receive any sponsorship from the brands and all comments are our own. From time to time, we also refer to online reviews and include information about how other people use the products.
Hot Take: My top choice is the Meladerm Pigment Correction Cream. It is a great balance of effectiveness as well as pricing that will appeal to most of you ladies. Read on as I share my detailed findings.
1. Overall Best Skin Whitening Body Lotion: Meladerm Pigment Correction
Meladerm Pigment Correction is an amazing skin-lightening cream intended to lessen the appearance of hyperpigmentation, which includes melasma, age spots, and black spots.
It is produced by Civant Skincare, a business with a focus on high-quality skincare goods.
This topical cream is used on the skin's surface in the afflicted regions, and it contains organic components that lighten the skin and enhance its overall appearances, such as bearberry and mulberry extracts.
The lotion can be used on both the face and body and is good for all skin types. Not just that, but you can feel safe using it in conjunction with other skincare products. Make this a part of your regular routine!
Key Ingredients: Bearberry & Emblica Fruit Extract
For generations, traditional medicine has used bearberry extract, a natural ingredient, in reducing the appearance of hyperpigmentation, such as age spots and freckles, and is well known for its skin-lightening qualities.
Additionally, it is a potent antioxidant that aids in preventing free radical damage and early aging of the skin.
Along with these advantages, bearberry extract is kind to the skin and won't irritate or dry it out.
It can therefore be used on all skin types, even sensitive skin.
Similarly. Emblica extract, which comes from Indian Gooseberry, possesses the same powerful anti-aging properties.
It has also been shown to have skin-lightening and brightening effects that work on all skin types.
When it comes to skincare products, these 2 natural ingredients are a godsend and make them safe for everyone to use.
2. To Repair Skin Damage & Dry Skin: The Vaseline Healthy White, Skin Lightening Lotion
Vaseline – a brand that just about all of us will be familiar with. This household name has recently been trying to push boundaries with its skincare offerings, and the Vaseline Healthy White Lotion is just one example of that.
Why is this one of the best whitening body lotions available? Because its one-of-a-kind ingredient blend promises to bring you a brighter tone and fairer skin after just two weeks of regular use.
Key Ingredients: Vaseline Jelly & Niacinamide
Vaseline jelly is a fantastic emollient, but it leaves quite a greasy residue behind. This formula counters that by using micro droplets of Vaseline jelly. These keep your skin hydrated while giving it a natural glow.
What about its whitening ingredients? You'll find a hefty dose of vitamin B3 in this lotion. Otherwise known as niacinamide, this vitamin is a proven skin lightener [1]. It works by inhibiting melanin production, which is the pigment that creates darker skin. As a result, your skin takes on a lighter tone.
Although not one of the star players in this formula, you'll also spot yogurt powder on this product's ingredient list. Yogurt is a natural source of lactic acid, an ingredient that not only has a mild exfoliating effect, which leaves the skin brighter but also increases natural moisture in skin cells.
---
3. A Drugstore Cream That Can Whiten + Tone Up Sagging Skin & Fine Lines: Nivea Extra White Firming Lotion
If you're searching for skin whitening body lotions that not only lighten the skin but offer up anti-aging benefits too, then Nivea's Extra White Firming Lotion is worth a look. It makes use of Deep White Essence technology, which basically means that the particles in this cream are finer than usual, allowing them to penetrate even deeper into the skin.
In addition to making the skin whiter, this lotion promises to also leave you with smoother and firmer skin.
Key Ingredients: Vitamin C & Q10
Vitamin C is a go-to ingredient for many of the best whitening body lotions out there, and this formula is no exception. However, unlike many of the others, this one contains sodium ascorbyl phosphate, which is the most stable form of vitamin C.
This allows the vitamin to really work its magic – it'll reduce natural melanin production while dispersing melanin clusters (ie. dark spots) in your skin.
Another ingredient that makes this one of the best whitening body lotion formulas available is Coenzyme Q10, also known as CoQ10. Naturally produced by the human body, this compound declines with age.
What does it do? It basically gives energy to your skin cells – it helps them to repair the damage, stimulates collagen and elastin production, and so much more. People love it for its anti-wrinkle effects, making it the perfect addition to this lotion.
---
4. Great for Dark Spots & Damaged Dry Skin: Kojie San Lightening Body Lotion
Never heard of Kojie San before? Don't let that put you off their Lightening Body Lotion. The brand, which hails from the Philippines, has a loyal following in Asia, a market in which whitening lotions are big sellers.
This lightweight and non-greasy lotion helps to target dark patches and an uneven skin tone. It also moisturizes and hydrates the skin to leave it soft and supple.
Key Ingredients: Kojic Acid & Amino Acids
The star ingredient in all Kojie San products is kojic acid. It's derived from fungi and fermented foods, and it's a popular ingredient in natural skin whitening body lotions.
Why? Because it effectively lightens hyperpigmentation while brightening a dull skin tone. It also has antimicrobial effects, making it great for those dealing with acne.
There are a few other noteworthy ingredients in this formula, one of which (niacinamide) we've already talked about. However, let's quickly draw your attention to arginine, Histidine HCI, and acetyl tyrosine. They're all amino acids, which are essentially the building blocks that your skin uses to create new protein fibers.
Supplementing your skin with amino acids allows your skin to produce proteins at a faster rate. The result? Smoother, bouncier, and stronger skin that's better able to retain moisture.
---
5. An All-Rounder Suitable For Face & Body: Silka Skin Whitening Lotion
There aren't many whitening body lotions available that can safely be used on the face too. And, let's face it, sometimes it makes life so much easier when a single product can be used everywhere.
That's just one of the reasons why we love the Silka Skin Whitening Lotion. The other reason? It combines a few different lightening and exfoliating compounds to produce results in a matter of weeks.
Key Ingredients: Papaya Enzyme & Salicylic Acid
Papaya enzymes are loved for their exfoliating effects. They work in a similar way to chemical exfoliants, whereby they dissolve the glue-like substance that keeps hold of dead cells, allowing the skin to then eliminate them.
This enables your skin to shed its dark and discolored skin cells at a much faster rate, leaving you with glowing skin. Even better, papaya enzymes are also a powerful anti-inflammatory and are packed with antioxidants – everything you need for your skin to stay healthy.
Another interesting ingredient in this formula is salicylic acid. This is a beta-hydroxy acid that's often used in acne treatments because of how effective it is at clearing out the pores. It's a great ingredient for enhancing a brighter and more even skin tone.
---
6. Most Effective Whitening Lotion With SPF Protection: Gluta-C Intense Whitening Body Lotion
Whenever your skin is exposed to ultraviolet rays from the sun, it produces melanin, the pigment that gives your skin its color. The more your skin is exposed to UV rays, the darker it will turn, with age spots appearing too.
Therefore, if you really want to succeed at lightening your skin, UV protection is a must.
The Gluta-C Intense Whitening Body Lotion combines its skin-whitening abilities with SPF 25, making it ideal for those who don't want to use an additional sunscreen product.
RELATED: Does Sunscreen Make Your Skin Lighter
Key Ingredients: Glutathione & Vitamin C
This is the only body whitening lotion on our list that contains glutathione, yet this is an ingredient that's extremely effective. Not only does it quickly reduce the amount of melanin in your skin, therefore giving you a lighter complexion, but it also helps to boost skin elasticity and reduce the appearance of wrinkles.
You'll also find vitamin C in this formula, an ingredient that we've already touched upon. However, in addition to brightening the skin, vitamin C's antioxidant properties give it the ability to provide the best protection to your skin cells from sun damage.
---
7. A Skin Tone Whitening Lotion With Hundreds of 5* Reviews: Chear Kojie White Skin
The Chear Kojie White Skin lotion caught our eye because of the sheer number of people that have been raving about it. It has hundreds of five-star reviews, but once you take a closer look at this newcomer, it's easy to see why everyone loves it.
This body skin care whitening lotion has a lightweight consistency that works well on every skin type. Unlike the other best whitening body lotions on this list, this formula focuses on just one star ingredient…
Key Ingredient: High-Grade Kojic Acid
Kojic acid is the main player in this body lotion. As we've already mentioned, this is a natural compound that decreases melanin production, and it has been used in a very high (but safe) concentration in this formula.
Kojic acid can be used to treat just about every type of hyperpigmentation, from acne marks to melasma, making it a popular ingredient for anyone wanting to lighten their skin.
---
8. An Exfoliant & A Moisturizer: Ameliorate Transforming Body Lotion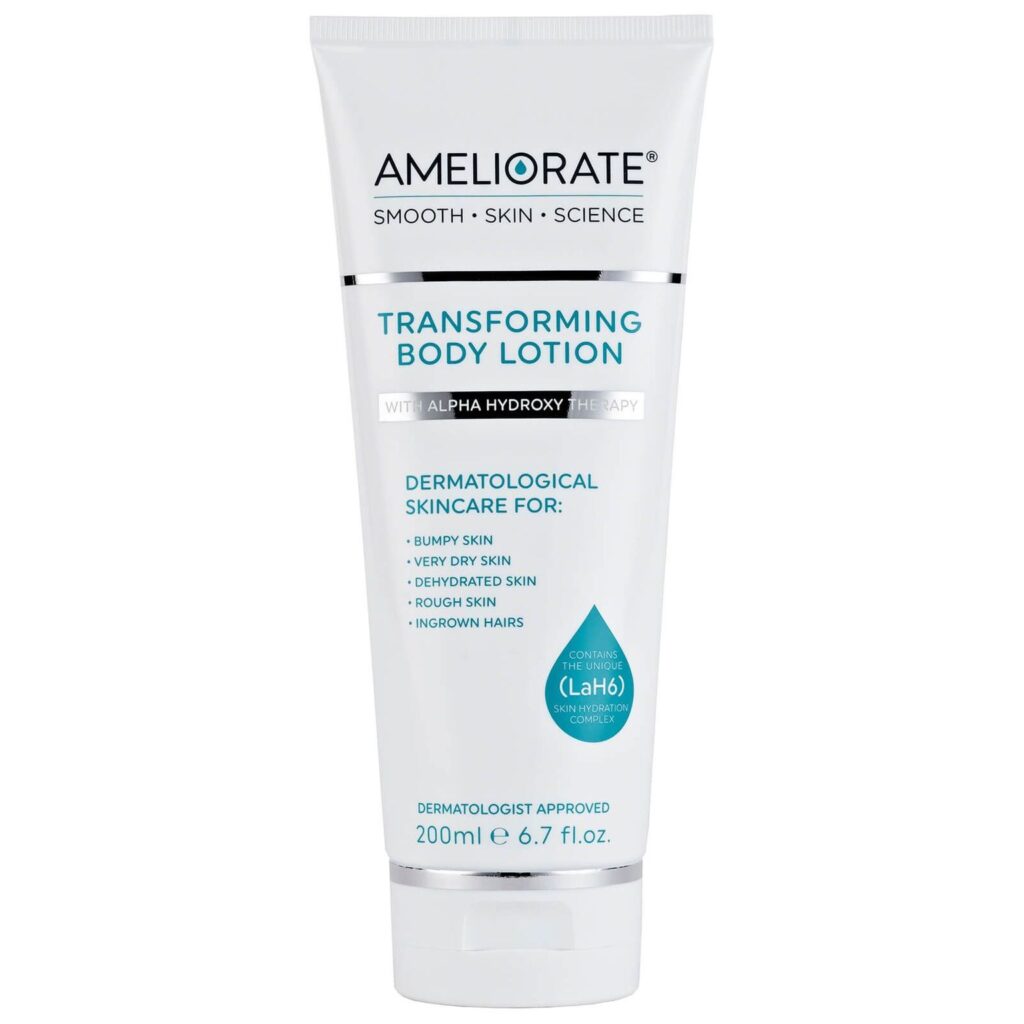 Sometimes, you want a product that can do more than one thing, which is where the Ameliorate Transforming Body Lotion comes in.
In addition to being one of the best whitening body lotions that we could find, it also exfoliates the skin, while moisturizing it too!
This formula was initially designed for people suffering from Keratosis Pilaris. As a result, it smoothes the skin and intensely moisturizes it for 24 hours.
It's gentle enough to be used daily – in fact, it's safe enough to be used on the face as well, and you can even use it on children over the age of three.
Key Ingredients: Alpha Hydroxy Therapy & Hydrating Compounds
Alpha hydroxy acids are chemical exfoliants that help to eliminate dead skin cells. Once this happens, the skin quickly takes on a brighter and more radiant appearance. There are several different alpha hydroxy acids out there, but the ones in this formula are lactic acid and ammonium lactate (a compound derived from lactic acid).
These are gentle, nature-friendly, and, in addition to brightening the skin, they're also good for preventing dryness. Results are usually evident immediately after use.
There are several different hydrating ingredients in this lotion too, making it ideal for quenching thirsty skin. You'll find glycerin, sweet almond oil, hydrolyzed milk protein, and urea, among many others.
---
9. An Exfoliating Formula That Delivers Ultra Moisture: Fair & White Original AHA Body Lotion
Just like the product above, the Fair & White Original AHA Body Lotion is one that both exfoliates and moisturizes the skin.
However, this one is a little thicker in consistency. It may be a little heavy for those of you with oily skin prone to body acne, but, if dryness is your main concern, then this formula is perfect.
Key Ingredient: Lactic Acid & Shea Butter Extracts
We've mentioned lactic acid a few times now, so you can see how popular it is. This AHA mildly exfoliates but also helps to hydrate, making it a no-brainer in brightening formulas.
The lactic acid in this lotion is supported by shea butter, an ingredient revered for its moisturizing properties. It's packed with high concentrations of fatty acids that increase the skin's moisture content, as well as vitamin E and antioxidants, both of which can reverse the effects of time.
Shea butter also acts as an anti-inflammatory. So, if you've been experiencing redness or irritation anywhere on your body, this lotion could help.
---
10. A Light, Milk-Like Formula That Will Give You a Radiant Complexion: Snow White Milky Lotion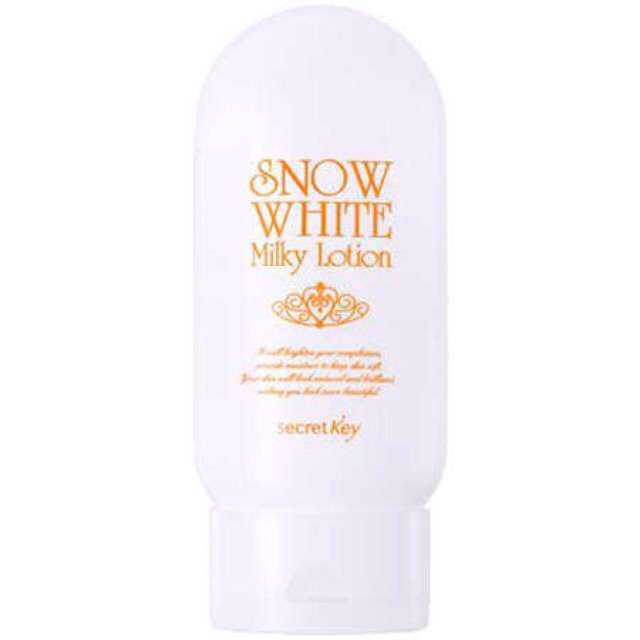 The Snow White Milky Lotion is considered to be one of the best whitening lotion formulas out there because of how it produces instant results. The before & after photos that we've seen are impressive!
Granted, these results are temporary but use this super-lightweight lotion regularly and that lighter complexion will soon stick around.
Key Ingredients: Pearl, Niacinamide, & Ascorbic Acid
The instant brightening effects of this Korean skin whitening product are down to the pearls in this formula. Pearl powder has reflective properties that give the skin a lighter and more luminescent appearance.
Also in this lotion are vitamins B3 and C, in the forms of niacinamide and ascorbic acid. We've already explained why both of these are key when it comes to searching for the best whitening body lotions, but none of the products that we've featured so far have featured ascorbic acid.
This is vitamin C in its purest form, making it highly potent. However, since this milky solution also contains several skin-soothing compounds, such as aloe vera and sodium hyaluronate, your skin should tolerate it without any issues.
---
11. Good for Bleaching Dark & Black Skin: G&C + Papaya Skin Lightening Whitening Brightening Body Lotion
It can be difficult to find whitening body lotions for black skin. Use the wrong ingredient combo and you could end up making your hyperpigmentation even worse.
Alternatively, turn to the G&C + Papaya Skin Lightening Whitening Brightening Body Lotion and you'll know that you're in good hands. This lotion can be safely used on every skin tone, even very dark skin.
It makes use of natural lightening ingredients that will leave your skin looking brighter and smoother.
Key Ingredients: Vitamin E, Kojic Acid, & Papaya Extracts
While we've already talked about kojic acid and papaya extracts, both being very popular and very effective natural lightening ingredients, we haven't delved into vitamin E yet.
This ingredient is loved for its moisturizing properties. However, when combined with the right fruit acids, which, in this case, are offered by papaya, it also has a lightening effect.
It's a clever bit of science that enables this product to deliver effectively, yet completely safely.
---
FAQ
Can men use a whitening lotion that has been designed for a woman?
Yes, it's completely safe for a man to use a whitening lotion designed for women, so long as that product is suitable for the man's skin type.
Can the Rose & Peptide Facial Mask Pack be used on sensitive skin?
Many people with sensitive skin love this product but always perform a patch test first.
According to reviews, which is a good whitening body lotion with natural extracts for all skin types?
Are herbal and organic whitening products any good?
Yes, there are many organic and herbal skin whitening ingredients out there that have been proven to be very effective.
Does calamine whiten skin?
Although not a whitening ingredient, calamine can help to give you a healthier and more even skin tone.
Is it safe to use a whitening lotion in winter?
Yes, you can use a whitening lotion throughout the year.
Are there any whitening products that can be used in the shower?
Exfoliants that contain whitening ingredients are ideal for use in the shower.
Which is the Best Skin Whitening Body Lotion For You?
As you can see, there are some fantastic whitening body lotions out there for you to choose from.
Hopefully, we've helped you to narrow down your options and single out one or two products that sound perfect for your skin.
So long as they contain ingredients that are suitable for your skin type, these products are all capable of giving you a lighter and brighter complexion.
My personal top choice is the Meladerm Pigment Correction lotion as it really combines the best ingredients into an easy-to-use package, and it is fairly priced!
[ninja_tables id="18855″]
References
[1] https://pubmed.ncbi.nlm.nih.gov/12100180/